"Perfect Pitch was born as a program for women to intentionally meditate upon the factors in their lives which keep them in a sticky web of fear about owning their voices… It is luminescence by which to clear the cobwebs."
Perfect Pitch is on again in beautiful Hobart.
On 8th/9th October at the light and lofty Avalon City Retreat 'The Pod'.
All details and registration are here.
It makes me so happy to see my friend and colleague, Natasha Cica, honoured in this way. And to read Helen's words of the insights and richness which Perfect Pitch brings. Wonderful, generous writing Helen Haywood! Thank you.
Rosie
The Workshop
Perfect Pitch is an innovative and intensive professional development workshop for women who wish to transform their effective communication when speaking to groups. It is delivered by Rosie and Natasha Cica of Kapacity.org.
Perfect Pitch breaks down anxiety, builds confidence and enhances poise.
Places are limited to 16 participants per workshop.
Who should attend? Women from any background or sector, who are motivated to improve their professional impact through better presentation.
Read about the spacious potency of Perfect Pitch to bring positive change.
Registration is through Eventbrite, here. Feel welcome to reach out for further information here.
The Presenters
Perfect Pitch is co-created and jointly facilitated by Rosalie Martin and Natasha Cica.
Rosalie is a speech pathologist, criminologist and Courage & Renewal facilitator. She is passionate about working with people – adults and children – to improve and perfect their communication skills. Rosalie was awarded 2017 Tasmanian Australian of the Year for her pro bono work supporting literacy in Tasmania's prison population. She has had extensive experience as a presenter, facilitator and clinician.
Natasha is a lawyer, leadership expert and executive adviser who founded
Kapacity.org
, which works globally to support individuals, leadership teams and organisations deliver effective and sustainable change. She was recognised in 2013 by
The Australian Financial Review
and Westpac banking group as one of Australia's 100 Women of Influence, in the category of innovation, and was an inaugural Sidney Myer Creative Fellow. Natasha has extensive experience as a professional communicator across corporate, public sector, community and educational sectors in Australia, Europe, the Western Balkans and beyond.
Endorsements
We want to see more women enter and indeed excel in our parliaments, boardrooms and leadership roles across all sectors in Australia. I welcome Perfect Pitch as an innovative program that seeks to empower women to find their own, confident voice. The Hon Julie Bishop MP, Australia's Minister for Foreign Affairs, and Deputy Leader of the Liberal Party of Australia 2007-2018.
For years, we have had to explain why the unequal representation of women in leadership positions is an issue and why it makes economic and social sense to seek change. Now there is recognition that we have a serious problem and it affects all of us women and men. Perfect Pitch is empowering women to voice their solutions, to the benefit of all society. Natasha Stott Despoja AM, Australia's former Ambassador for Women and Girls and Chair of Our Watch
The Women's Leadership Institute Australia was set up to address the inequality of power and decision making between men and women in Australia. Good leadership skills include, most importantly, the ability to communicate effectively and with clarity. Perfect Pitch provides the foundational skills to achieve this. Carol Schwartz AM, Director of Stockland, Founding Chairman of Women's Leadership Institute Australia, Chairman of Our Community
˜Australia has an enviable record of political and economic reform. But we continue to fall behind our peers on the most basic measures of equality" the rights of women. Our grand egalitarian project will remain incomplete while the better educated half of our population are denied a fair share of the leadership positions in parliament and business." George Megalogenis, journalist and analyst, author of Australia's Second Chance and recognised as Australia' best explainer.
'Robust engagement with gender challenges is a top priority for anyone serious about Australia's future. Perfect Pitch empowers a diverse range of women to learn to speak more effectively about what really matters to them and in turn, to all of us. I strongly support this initiative' Michael Cooney, Executive Director, Chifley Research Centre, the official think tank of the Australian Labor Party
˜The under-representation of women in leadership positions in business and government detracts from Australia's overall well-being, and from the success of individual organisations. That should concern men as well as women. Perfect Pitch is a program that helps women to be stronger advocates in their own cause – adding value to organisations and to our entire community.' Saul Eslake, former Chief Economist of Bank of America Merrill Lynch Australia and of the Australia & New Zealand Banking Group, Vice-Chancellor's Fellow at the University of Tasmania.
Perfect Pitch is also delighted to receive this message of support from the current Premier of Tasmania, The Hon Will Hodgman MP:
˜Perfect Pitch is clearly making a significant and positive difference in the lives of a number of women with unrealised leadership potential, by providing them with practical and accessible strategies for their personal development.
Congratulations to [Natasha] and Rosalie and best wishes for the expanded series of workshops proposed for 2017.'
PERFECT PITCH IN AUSTRALIA 2016:
In 2016 Perfect Pitch was presented in Sydney, Melbourne, Hobart and Launceston – with the generous support of Fairfax Media, La Trobe University, Avalon Retreats, Stillwater, and the Women's Leadership Institute Australia.
Special guests across the 2016 Australian season included:
Kate Warner, Tasmania's first woman Governor
Lara Giddings, Tasmania's first woman Premier
Jacquie Petrusma, Tasmania's Minister for Women
Elise Archer, Tasmania's first woman Speaker of the House of Assembly
Joanne Gray, editor of AFR BOSS
Lindley Edwards, group ceo of AFG Venture Group
Julianne Schultz, founding editor of Griffith Review and chair of the Australian Film Television and Radio School
Kim McKay, ceo of the Australian Museum
Rebecca Huntley, social researcher and writer
Padma Raman, executive director of the Australian Human Rights Commission
Robin Banks, Tasmania's Anti-Discrimination Commissioner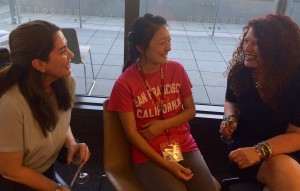 Angela Driver, general manager of the Tasmanian Leaders Program
Ruth Langford, Tasmanian Aboriginal community activist
Jane Bennett, ceo of TasFoods Ltd and board member of the Australia Broadcasting Corporation and Tasmanian Ports Corporation
Alison Stone, Tasmanian Aboriginal educator and advocate
Robyn Kronenberg, former president of the Alliance of Girls' Schools Australasia
Emma Hope, The Mercury's tourism reporter – click here to read Emma's news story about Perfect Pitch
Sue Jenkins, paediatrician
Tori Hodgman, broadcaster, barrister and comedian
Jan Davis, agribusiness and government relations consultant
Clare Wright, historian and public intellectual
Catherine Hurley, Head of Regional Content at the Australian Broadcasting Corporation
Julie Szego, freelance journalist and author
Blanka Dudas, fashion industry leader and founder of I Came By Boat
Lilly Brown, young Indigenous leader and Charlie Perkins Scholar
Maria Tumarkin, cultural commentator and educator
Emma Dawson, executive director of Per Capita
Amanda Ducker, TasWeekend magazine editor
Janet Carding, director of the Tasmanian Museum and Art Gallery
Tania Bosak, musician, performer and master class rhythm teacher
Sue Neales, national rural and regional affairs reporter at The Australian newspaper
Mary Massina, Executive Chair, Tasmanian Planning Reform Taskforce
Pro bono places in the 2016 workshops were provided by the Museum of Old + New Art, corporate adviser Narelle Hooper ( co-author of New Women New Men New Economy), Font PR, and lawyers Alec Leopold SC, Leanne Norman, Marcus Pesman SC and Dr Paul Vout.
TESTIMONIALS FROM PARTICIPANTS:
I really loved the time spent on this – looking at myself from a different angle. I found the exercises on the throat and voice projection very practical and helpful. The activities were gentle and well thought out, with a clear outcome.
I have to confess I had visions of the usual 'stand here, say this, talk now, don't talk now', stage-between-us, standard presentation lecture. Having worked hard to escape from the corporate mold in my life, part of me was apprehensive. Perfect Pitch… was none of those things. It was intimate. Subtle. Big picture ideas and simple truths tied softly together with ribbons of practical information.
This is awesome, I really recommend this to anyone [wanting] to improve their public speaking
Excellent practical wisdom and strategies. Strengths I can take back to my workplace to encourage women.
I have learnt so much from this workshop… It's really empowering to be invited to contribute to a circle that has a shared respect and purpose.
Loved the diversity of the group, especially the Indigenous participation.
[I] was expecting the usual teaching of practical tools. Very pleasantly surprised about what the sessions delivered. Tools to support self reflection and the beginnings of learning how my behaviours are limiting my power to influence. Excellent workshop that I would highly recommend – thankyou for a thought provoking experience.
Very early on [this workshop] triggered quite an acute and personal response. Marrying tactics and skills with more abstract and open invitations to respond I think will provide shifts I can't yet articulate. Having felt mute and voiceless it is encouraging to be given an opportunity to think about the context in which I operate as being more flexible and within my control. 
I wasn't sure what to expect and am thrilled at what the day turned out to be. Incredible opportunity to reflect on my inner self – I know I will come away with lifelong tools to be a better communicator via self awareness, self confidence and self respect. Thank you! P.S. What an AWESOME group of women!
Personally I have found the day: Challenging – as an opportunity for self reflection. Energising -in meeting 'new' women and sharing/listening to their exciting stories of struggles and success. Educational – in gaining new tools and skills for self-improvement.
I loved Perfect Pitch. It caused a chain reaction of actions from me post the day which sorted out a few inequities at work. So thank you.
[Perfect Pitch] blew my mind and gave me insights I never knew I could get from an event like this. Highly, highly recommend you go.